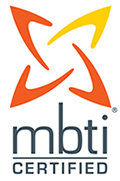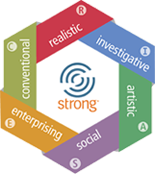 Psychometric tests are a standard and scientific method used to measure individuals' interest, communication and behavioral style. Some psychometric tests are designed to measure candidates' suitability for a role based on the required personality characteristics and aptitude (or cognitive abilities). In a practical sense, psychometric assessments are used to help individuals and teams understand themselves providing important and valuable insights, enabling foresight into career planning, team-building and leadership development.
iBridged Career Coaching uses the Myers-Briggs (MBTI®) and Strong Interest Inventory assessment products as they are the most trusted globally. Consider the following:
MBTI® is powerful and easy to grasp, insightful, and thought provoking.
It is reliable, valid and underpinned by ongoing, rigorous global science, research and development.
Used by 89 of Fortune 100 companies to maximize individual and team effectiveness from entry-level professionals to the executive suite.
Selected by the nation's top colleges and universities and by institutions worldwide as the foundational tool for student and alumni career development.
Regularly updated to reflect changes in today's world of work!
Enables superior decision-making for school, career and life!
For nearly 80 years, the Strong Interest Inventory® assessment has provided time-tested, research validated insights to help individuals in their search for a rich, fulfilling career. As one of the most respected and widely used career planning instruments in the world, it has been used extensively in organizations and educational institutions of all sizes. Companies of all sizes use the Strong to gauge their employees' interests in order to match them to better suited positions and increase retention. The Strong generates an in-depth assessment of your clients' interests in a broad range of occupations, work, and leisure activities.